New scalloper/trawler for Le Havre
Aug 29, 2022 / by admin / In Actualités / Comments Off on New scalloper/trawler for Le Havre
With a length of 11.98 metres and a breadth of 6 metres, Pierre Becquet's new fishing boat was launched on 13th July at Locmiquélic in Morbihan.
It will be delivered in August to the port of Le Havre, where the owner already runs the P'tit Pierre (ex-Tigrou), built in 2005 by the same yard as P'tit Gabin, Chantiers Navals Bernard. It is expected be ready and operational before the next scallop season.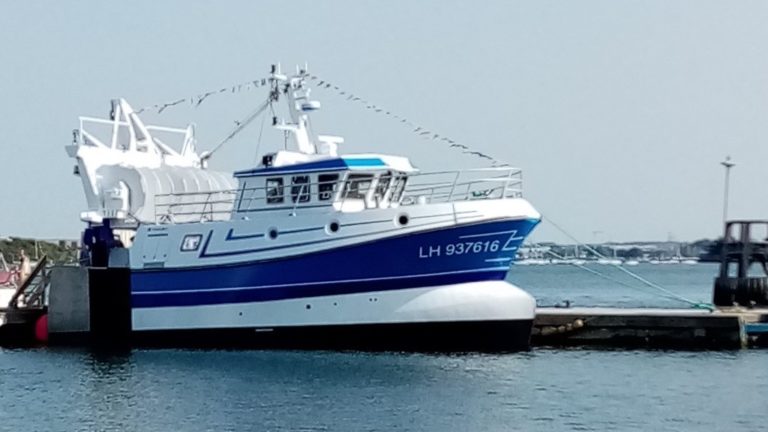 Like its predecessor, this new vessel is a multi-purpose trawler/scalloper, with a hull mounded in GRP and topped with an aluminium gantry. It has a forward draft of 2.80 metres, tapering to 3 metres at the stern. The deck is laid out with three winches, plus three net drums and a gilson mounted in the gantry. There is a 24m3 chilled fishroom and the main engine is a 330hp Caterpillar C18.
Designed by naval architect Coprexma, P'tit Gabin was ordered during 2019 and construction started the same year. Although the shipyard took its time to build it, the high-quality finish is appreciated, and is considered to be 'superior' to that of other boats of the same class.
The price of the vessel is around two million euros. According to Mathieu Le Gall of Coprexma, the boat is 'more robustly dimensioned' than P'tit Pierre. 'It is also better insulated in terms of noise and the comfort of the facilities is superior,' he said.
Read on Hook and Net by Darianna Myszka