Pair team complete
Mar 17, 2021 / by admin / In Actualités, Réalisations / Comments Off on Pair team complete
The second of a pair of Coprexma-designed trawlers for a young company in the west of France has been delivered by the Gléhen shipyard in Douarnenez.
Based at Saint-Gilles Croix de Vie, the two are expected to operate as a pair team for much of the year, concentrating on small pelagics, notably sardine and achovy, which are delivered to the Gendreau cannery. They also have a quota for red (bluefin) tuna to be caught in the summer and outside these seasons, there are winter options for demersal fishing for cuttlefish, squid and hake.
The company behind the new pair team, La Belle Alliance, is a venture between fishing skipper Jérémy Chagnolleau, processor Philippe Gendreau and several local fish merchants. Their aim is to focus on adding value to catches with a more vertically integrated approach, while supporting employment in their local region across the whole value chain of fishing, auctions, wholesale and processing.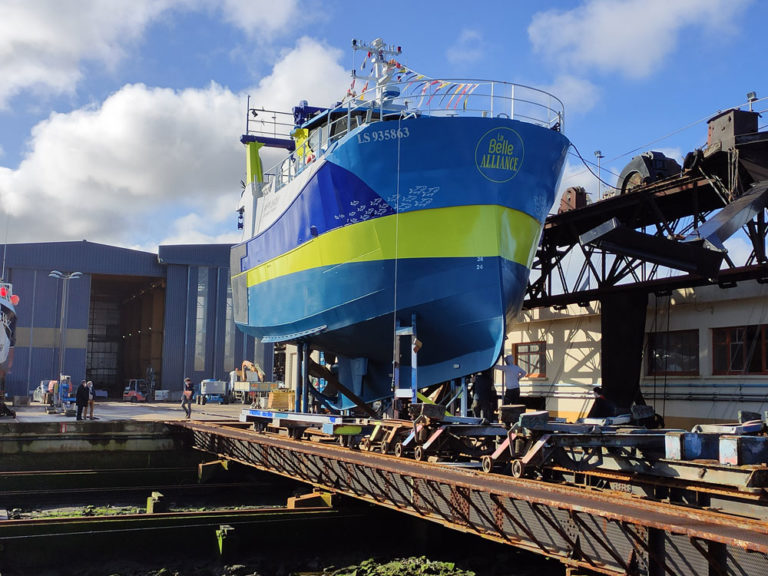 Papy Chichi is about to join its identical pair partner Les Chignolles, focusing on small pelagics
The first of the two trawlers, Les Chignolles, was delivered by Gléhen in October last year and has been operating successfully through the winter. 'At Coprexma we're proud to be able to contribute to a venture that aims to support the traditional Vendée sardine fishery,' said Coprexma's president Jean-François Ansquer. 'We are delighted to share this moment with the owners, in particular with Jérémy who chose to name the new vessel in memory of his father who sadly passed away almost two years ago.'
The 14.38 metre LOA, steel-hulled Papy Chichi has a 7 metre beam, a semi-inverted bow designed for good seakeeping, and is laid out to operate with a crew of five. The main engine is a 331kW Cummins QSK. Tank capacities are for 12m3 of fuel and 2.83m3 of fresh water.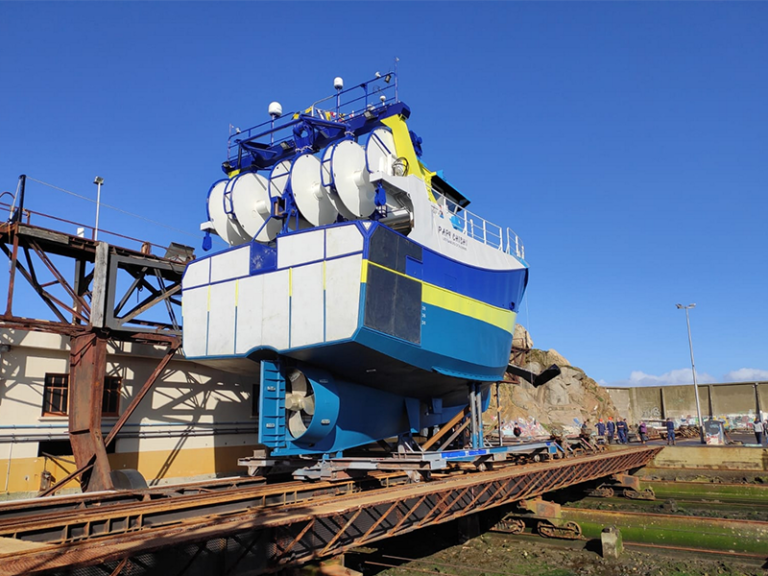 The Coprexma-designed Papy Chichi is the second of a pair built for Le Belle Alliance /Papy Chichi est le second d'une paire de chalutiers
To maintain maximum catch quality, Papy Chichi has a 6m3 chilled water tank for rapidly cooling catches effectively. After passing through the catch handling layout on deck, catches are stored in the 50m3 fishroom. The careful arrangement of the catch handling systems on board Papy Chichi and Les Chignolles are designed to ensure the high quality of sardine and anchovy required by the cannery is maintained.
Read on Hook and Net