Seiner's new lease of life
Aug 18, 2020 / by admin / In Non classé / Comments Off on Seiner's new lease of life
Keen to continue the family tradition of purse seining, Jérémie Gourret bought La Sardane in 2016, and this year put the boat through a major refit at the Hénaff yard in Le Guilvinec.
The wooden La Sardane was built in 1977, and after a few years fishing for its new skipper, it was clear that an overhaul would not be far away as maintenance was becoming increasingly complex. A newbuild was not an option.
So Jérémie Gourret went to naval architect Coprexma and Chantier Naval Hénaff for a refit that brought in skills from across the region.
'Jérémie came to see my father in 2017 after buying the boat – and I took over the project at the end of last year,' explained Pauline Hénaff Jézéquellou, who has been running the family shipyard since the end of 2018.
'Work began in November last year and we already had trawler Kervily II here for for an overhaul. This is the first time that we have carried out two major projects side-by-side. We had around thirty people working here during those eight months and the Covid-19 crisis didn't result in any delays. So we had our own shipwrights and carpenters, as well as people from yards in Saint-Guénolé and staff from Charpentiers de Cornouaille. This is a normal way of working for our companies,' she said.
'We all know each other and everyone is very supportive of each other.'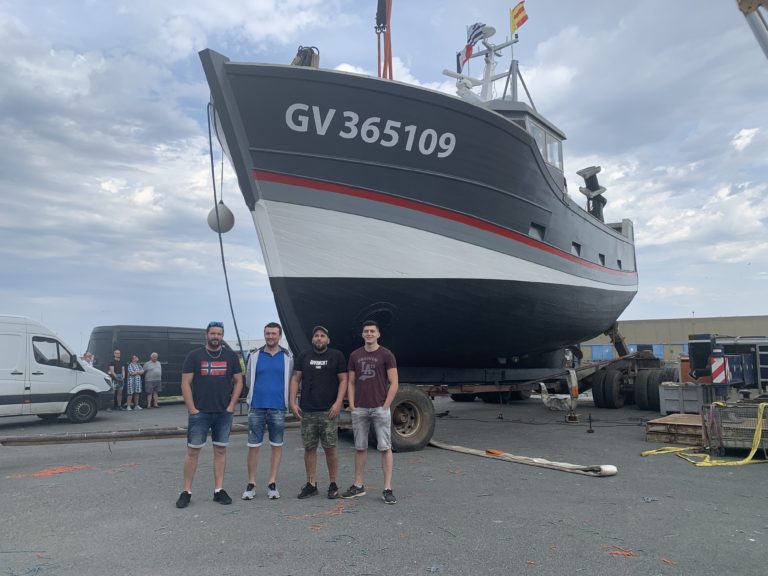 Jérémie Gourret also wanted to involve Coprexma in the refit, having seen the work the company had done for his father's purse seiner Tximistari II.
The main part of the work involved lifting the gunwales and the transom, and creating a wheelhouse to improve comfort on board.
Naval architect Yves Le Perron explained that the yard replaced the upper part of the bow section, refitted the fishroom and replaced the working deck, and the new wheelhouse provides a better view over the deck – which is critical for a small purse seiner which is necessarily fitted with a lot of rigging and crew on deck.
´This modernisation gives them the comfort, safety and stability that is expected in a modern vessel,' he said, adding that the wheelhouse incorporates a mess area. La Sardana's capacities remain unchanged, but new tanks have been fitted and a Triplex net hauler has also been fitted to make handling the purse seine easier.
With La Sardane out of action for some months, Jérémie Gourret acquired Kanedevenn from Quiberon, which allowed him to make a start on the season as usual – and now this boat will be passed to his younger brother.
´He learned with our father as well,' Jérémie Gourret said.
'Passing things on is part of the family culture, and at the height of the sardine season in August we will also be taking an apprentice from the Maritime College in Le Guilvinec on board La Sardane.'
La Sardane is one of the region's carefully regulated fleet of coastal purse seiners fishing for small pelagics. Only 27 boats are licensed by the PO, Les Pêcheurs de Bretagne and Association des Bolincheurs which represents these vessels' operators.
In a normal year La Sardane can be expected to catch around 1000 tonnes of fish, with around half of this supplied to canneries and the rest goes to fishmongers in the region to supply the local market.